San Francisco's 'Bar Car' Serves Booze Food-Truck Style
San Francisco's 'Bar Car' serves booze food-truck style
Source: San Francisco Business Times (original article)
Author: Annie Sciacca
There's a food truck serving bugs, a food truck for dogs, and now, there's one serving booze.
Bar Car, a 1965 Airstream trailer-turned-mobile bar is making its debut in the Bay Area. While it won't be parked on the street as some of the area's many food trucks are, the Bar Car's catering liquor license will allow it to pour at any sort of private event such as weddings, corporate events and birthday parties.
The booze-centric truck is the brainchild of restaurant and bar entrepreneur Greg Medow, who helped launch and support several Area restaurant and bar ventures including Indigo Restaurant and Crimson Lounge, Cyrus, Foreign Cinema, Mission Bowling Club, Pizzeria Delfina and Flanahan's.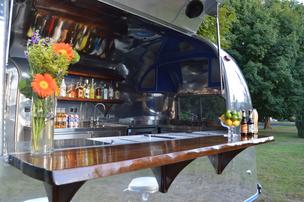 About three years ago, noticing the popularity of the Bay Area's food truck trend, Medow wanted to try something a little different. The mobile bar idea struck, but he wanted a different aesthetic than the typical food truck.
"Standard food trucks are boxy and big, often with different color schemes, but that didn't fly with me," Medow said. "I didn't think it would be good to have a mobile bar that looked like a food truck, and then I stumbled across a 1965 Airstream shell in upstate New York."
After a three-year renovation, the truck is not just up to code, but stylish, with a pop-out mahogany bar, Medow said. It looks vintage, but with a high-polish finish and futuristic feel, making it appealing and adaptable to different settings for events.
Bar Car operates a full liquor bar, as well as wine and a self-serve beer tap pouring local brews like 21st Amendment, Lagunitas IPA, Speakeasy Prohibition Ale, Magnolia Kalifornia Kolsch and specialty cocktails.
Medow said the Bar Car service provides more than just the booze. They'll show up with bar stools, games like cornhole toss and ping pong, and cocktail tables. Prices vary depending on people, type of liquor, and length of the event, but start at $25 a head for three hours of beer, wine and "house" liquor, with a minimum of $1,000.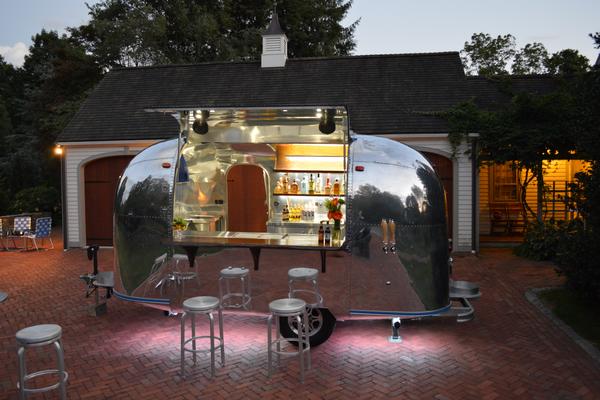 "We do everything. You just have to look good," Medow said. "You just have to come out of your house with your hand open to get a drink."
A graduate of the Cornell School of Hotel Administration, Medow was taught to get creative in the hospitality industry, he said.
"With a standard brick and mortar restaurant, it's fun to operate, but it's its own identity," Medow explained. He wanted to do something that was ever-changing.
"The Bar Car is chameleon — it blends into whatever youre party is going to be," he said. "It's not the same restaurant at the corner of 5th and Main — it's every restaurant on every corner."